Presenting…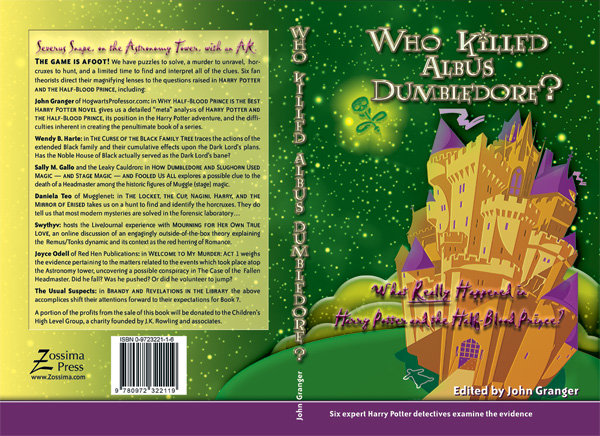 In the summer of 2006, in collaboration with John Granger (of the HogwartsProfessor.com site) and four other online theorists, I took part in putting together a collection of essays examining what we believed really happened in 'Harry Potter and the Half-Blood Prince'. At least for theoretical purposes.
We were all set to go to press with it when Rowling dropped her "He really is dead." brick at Radio City Music Hall at the beginning of August, and sent us all scrambling to do rewrites and apply emergency patches. Consequently, it got a bit delayed and didn't come out until November.
Despite most of the theories in it having been deep-sixed by the release of 'Harry Potter and the Deathly Hallows', it can still be ordered from amazon.com, Barnes & Noble, and possibly other services. It is probably still good for a few laughs (at us, if nothing else).
A portion of the proceeds of the sales are contributed directly to The Children's Voice, also known as The Children's High-Level Group, the charity which J. K. Rowling helped to found. It is referred to by the latter name in the credits of the book itself.

The original design of the cover grabbed the whole "murder mystery" theme which is used throughout the book's design and ran with it, with an original title that made cultural reference to Agatha Christe's famous novel 'Who Killed Roger Ackroyd?' but the publishers were convinced that no one had ever heard of Agatha Christie's book and made me change it. Given the numbers of "reviews" which rapidly appeared on amazon that did nothing but whine about the title (and gave every appearance that the reviewers had emphatically NOT read the book, nor purchased it — and were proud of it) I'm not convinced that this change was a good idea. But then, quite probably the whole concept of going with the murder mystery theme, with a murder mystery title, was flawed from the get-go.
I also did the typesetting and interior design. The decorative tiles shown above and to the right are references to the game of 'Clue' (or 'Cluedo'), being the traditional murder weapons, expanded by the poison bottle from the 50-year anniversary edition of the game, and the HP reference of the wand. These were used throughout the book as well.
Below is a late, but still unfinished, version of the cover before the title change was demanded.