Presenting…

This was actually the 2nd portfolio that we produced for this class. Our Midterm had consisted of creating a portfolio of all of our work up to the middle of the semester. Well, hey, I've always tried to post my midterms and finals here on the site, once a semester finishes. So once I had an actual portfolio built from the first half of the class, I kept it up to date and rolled each of the projects we worked on afterwards into it.
At the end of the semester, and four additional projects down the road (two of them fairly complex, multi-week projects) our final turned out to consist of building another portfolio. The instructor (who was new this semester, since our previous instructor had retired) had intended that the people who had made it through the class to the end might be able to use these in job interviews. I rather suspect that they could. He'd assigned a good range of projects. He also permitted us to extend our first portfolio to produce the final, so since I'd been doing that already I did so.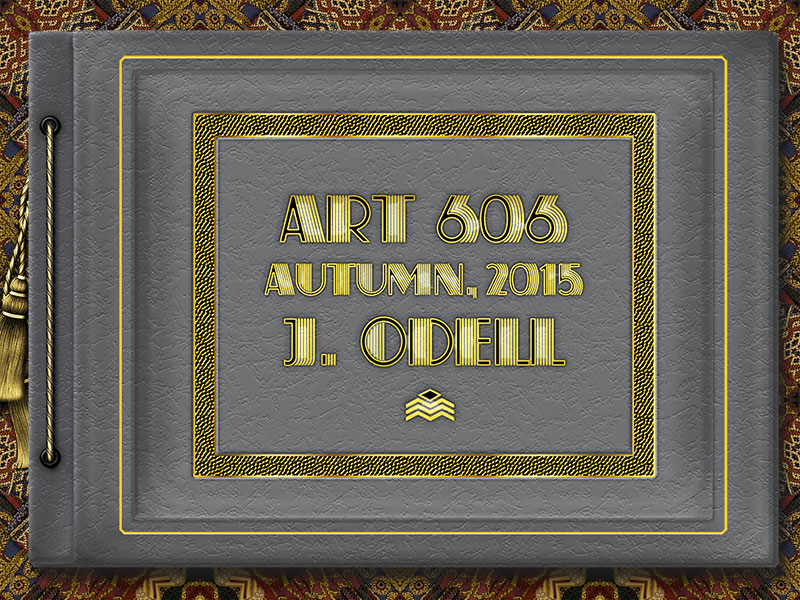 I'll have to admit that with this project I'm just a little unsure about the actual legalities of using a lot of these images. Where our previous instructor had not wanted us to use anything off the internet, this one considered the net to be where a designer goes to get content. He was careful to point us at sites which were either commercial sources, or repositories of free content. But with things that come up in a general search, while it is probably legal enough to use them in classroom exercise, I'm less sure about using them for general posting.
Well hey, I'm certainly not making any money from it. But let me make it clear, I do not own the rights to any of these photos. Although some of them I have paid for in my clip art/stock photography subscription.
The .pdf is on the large side for direct viewing (although one can), so I have it posted here in both uncompressed format which can be opened directly, and in compressed format which can be downloaded. They are both fairly low-res files, however. We worked in screen resolution for much of the semester so there wasn't a lot of point to export them at hi-res.
Art 606 Final: uncompressed (18.4MB)